Questions About Lazarus (FAQ)
Q: WHERE IS LAZARUS LOCATED?
Right in the heart of East Austin on the corner of 6th & Chicon (between Whisler's and Counter Cafe). It's a great neighborhood, within walking distance of Zilker Brewing, Hops & Grain, and Blue Owl. These are great breweries, and we love being neighbors!
Q: WHAT KIND OF BEERS DO YOU SERVE?
All sorts of awesomeness. We will have 16+ taps to work with, featuring nothing but Lazarus brews. Which is pretty sweet when you have a Brewmaster like Matt Couch (formerly of Victory Brewing in PA). Matt has the skills and passion for a broad range of styles. We basically told him to brew what he likes. And if he likes it, you will too.
You can expect something for everyone - ranging from classics (Pale Ales, IPAs, ESBs and Stouts) to the the exotic (Belgians, Goses, and all sorts of seasonals). Plus we have big plans for the old Cool Store building next door.
There ought to be shivers running up and down your spine right now.
Q: WHERE CAN I GET LAZARUS BREWS?
Lazarus is a pints-on-premise brewery (zero-distribution). That means if you want our beer you'll have to come to here. But we've worked hard to make our space as exceptional as our beer, and we've definitely got a few surprises up our sleeve. We designed it to be the kind of place we'd like to hang out in, all day long. And you're going to love it.
Q: WHAT ABOUT FOOD & COFFEE?
Glad you asked. It takes a lot of coffee to make beer. And tacos. We're pretty passionate about both. So expect a full service espresso bar (check out our Slayer!) with authentic street tacos throughout the day (breakfast to dinner). We make our own root beer. And we feature a great wine selection.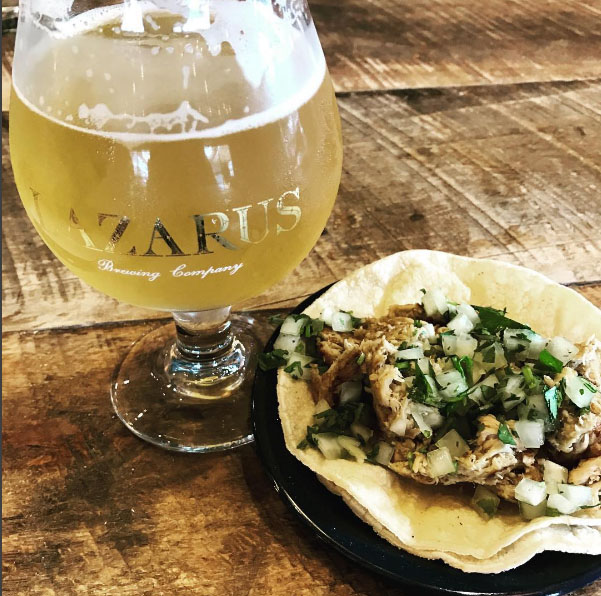 No matter what you like to eat and drink, there should be something here for you.
Q: WHAT ABOUT KIDS?
Absolutely. We're not a bar. We're a restaurant. We're a family friendly neighborhood brewery where you can meet with friends. Kids are always welcome.
Q: DO YOU HAVE WIFI?
Of course. We want you to hang out all day long.
Q: WHAT ABOUT LIVE MUSIC?
Yep! We think life would be boring without great music; we think music is best when it's happening live (with good friends and great beer). So we will have plenty of live music throughout the summer, and hopefully continuing into the fall.
Q: WHAT ABOUT A PATIO?
Absolutely. You're going to love our patio area. Garage doors, a huge pergola with a custom stained glass (plus fans/misters, and shade). It's a killer spot to meet, read, chill and chat. And drink beer!
Plus well behaved dogs are welcome on the patio too!